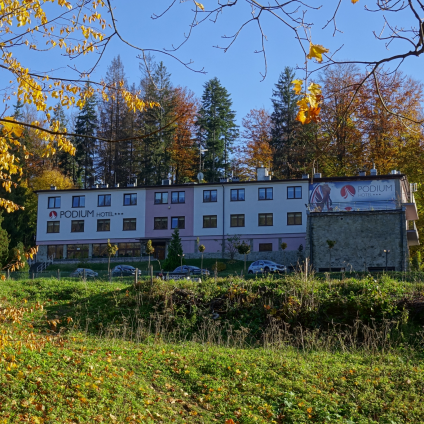 Hotel *** PODIUM in Wisła is a new training facility located in sheltered woodland area, hardly 400m from Ski Jump named of Adam Malysz multiple Olympic medallist. Renovated Hotel was officially opened in December 2013.
15 spacious, comfortable rooms simultaneously can provide accommodation for 36 persons in twin rooms or 44 persons with extra beds. Every room consists of a comfortable twin bedroom with a working space, an elegant en-suite bathroom with a shower, and also a large woodland view balcony. Mistrzowska Restaurant offers healthy and nutritious meals. Thanks to collaboration with the professional Sports Diagnostics Center ?DIAGNOSTIX?, we specialize in preparing diet dishes but also local specialities.
Podium Hotel*** is impeccable place for active people and athlets. In connection with the fact that there is a Sports Diagnostics Center in Hotel building so hotel Guests have the possibility of undergoing professional efficiency tests on a track, an exercise bike and in a diagnostics laboratory. Farther we offer cryotherapy treatments in CryoSpace where the temperature goes under -140 celsius degrees. In hotel area there are also unusual facilities like 1200m long bike track MTB XC and 25 obstacles OCR track. Besiedes Hotel***Podium is situated by the one of the most scenic hiking trial in Wisla going via Cienkow ridge to Barania Góra the mountain where the Vistula river starts.
At your disposal, we place a modern, air-conditioned conference rooms able to accommodate 100 people in a theatrical seat arrangement or 40 people at the tables. The price of renting the conference room, includes making the following available to you: a projector, flipchart, 55-inch television set of the latest generation, and also a built-in sound system. In the course of your conference, you will be able to use stationery, and take advantage of a coffee break, as well as services in the scope of translations (each of those requires making an additional payment – you may receive a price estimation for the latter one in advance).